The Spring of 2020 was marked by new and troubling policies taken to contain the COVID-19 pandemic. Borders closed down; distinctions were made between admissible and non-admissible travellers at airports; complete entry bans were imposed on people from certain countries or areas impacted by the disease; and asylum seekers were stopped at the Canada-US border. These are but a few examples of how human mobilities have been transformed and inequalities reinforced during this period.
In March and April of 2020, many countries, including Canada, strongly encouraged their nationals abroad to quickly return to reduce the spread of the virus. At the same time, countries were expelling some foreigners and closing their borders to most non-permanent residents – distinguishing between those deemed 'essential' from those who were not. These contradictory responses created various divisions in countries: the 'non-threatening-legitimate-citizen-body', the 'threatening-foreign-body', and the 'essential-foreign-body'. Some trends prevailed over solidarity and empathy: 'transmitting-bodies' were pursued and ostracised; marginalised people were abandoned; and exceptional measures were taken that ignore legal frameworks and international agreements.
During the months of March and April 2020, members of the Chair in Global Migration Processes produced reports on the various ways the exceptional measures taken in response to the pandemic impacted groups of migrants worldwide.
These reports are compiled on this page.
(1/10) FRANCE | Confined outside or let down inside: Precarious migrants in the Paris region in the pandemic era
Report written by Annaelle Piva, Ph.D candidate and member of the Chair.
Annaelle focuses on irregular migrants in urban spaces, comparing the situation in the cities of Rome and Paris.
April 13, 2020
In France, as in many countries, the measures taken to slow down the transmission of the COVID-19 virus severely affect migrants, including asylum seekers. Indeed, the process for taking care of migrants has been delayed by authorities for the duration of the pandemic. In practice, this means that the hearings taking place at the French Office for Refugees and Stateless People (OPFRA) and the National Court for the Right to Asylum (CNDA) are being postponed. Thus, these shutdowns are lengthening what were already lengthy procedures. It currently takes a minimum of 8 months to receive an initial response.
(2/10) MEXICO | COVID-19, Another Obstacle Facing Asylum Seekers
Report written by Guillermo Candiz, postdoctoral researcher associated with the Chair
Guillermo specialises in migratory dynamics in the Americas and northern Africa.
March 25, 2020
The spread of the COVID-19 virus has become a new obstacle facing asylum seekers stuck waiting in Mexican cities located at the US border. Donald Trump's administration, invoking the spread of the virus, announced the closure of the border with Mexico for non-essential travel on Friday, March 20, 2020 preventing anyone demanding asylum at the Mexican border from crossing it. On top of that, the American government decided that processing applications of asylum seekers who had managed to apply be suspended. As a matter of fact, US immigration courts closed and, subsequently, cancelled every hearing until April 10, 2020.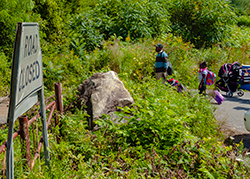 (3/10) CANADA | Asylum and border management in the COVID-19 era
Report written by Jacob Bruel-Courville, Master's student and member of the Chair, and intern at the UNHCR, Montréal
Jacob's research focuses on irregular entries of asylum seekers to Canada from the United States.
March 26, 2020
The global spread of COVID-19 led to a progressive closure of borders, initiated by China. Justin Trudeau announced the US-Canada bilateral agreement to almost entirely close their border as of March 21, 2020. Pressured by the Conservative party, Bloc Québécois, and the Government of Quebec, the federal government announced that the border would also be closed to asylum seekers trying to reach Canada; they would be sent back to the United States. This announcement echoed critics from the media and opposition parties regarding the highly publicised irregular crossing of asylum seekers entering Canada at Roxham Road (picture 1). However, irregularity does not mean illegality. As one of the signatories of the 1951 Refugee Convention, Canada must accept any person seeking asylum in its territory. The country will decide whether they will be allowed stay or be deported after their claim has been examined by a specialised court.
(4/10) LEBANON | Syrian refugee camps in Lebanon are at a very high risk in the current pandemic context
Report written by William McNicoll, Master's student and member of the Chair
William contacted some participants from his 2018-2019 fieldwork in Lebanon and provides an update on their situation.
March 30, 2020
At the end of March, Lebanon had 446 positive COVID-19 cases and 11 deaths, but the numbers will certainly rise in the coming weeks. In a country struggling since December 2019 with a major political and economic crisis, the Lebanese people and refugees need to find a way to adapt to the new situation, which is threatening the precarious daily lives of many. In Lebanon, migrants account for 30% of the total population – the biggest proportion in the world. Syrian refugees are estimated to number between 1 and 1.5 million, with 25% of them living in one of the many camps across the country.
(5/10) MEDITERRANEAN | COVID-19: SOS Méditerranée teams are impatient and determined to go back to sea to save migrant's lives
Report written by Mireille Lajoie, Bachelor's student and member of the Chair
Mireille is currently completing a research project for SOS Méditerranée, a European maritime and humanitarian association, whose main mission is the search and rescue of migrants trying to cross the Mediterranean Sea in order to reach Europe.
April 4, 2020
Every week, dozens of migrants leave Libya in unsafe boats hoping to reach Europe by the Central Mediterranean Sea. Their chances of reaching Italy are slim to non-existent. The SOS Méditerranée vessel rescues migrants in distress, preventing the deaths of thousands every year. Those rescued by SOS are leaving Libya, where the situation for migrants is horrible. Under the official pretext of curbing immigrants' streams to Libya, mostly from sub-Saharan Africa, immigrants are detained in detention centres managed either by the government or by armed militia. In the detention centres, men, women, and children can become victims of human trafficking, slavery, sexual exploitation, forced labour, racism, sexual attacks, and physical violence. For the migrants leaving Libya, Europe represents their ultimate chance for survival, worth trying to reach by sea despite the dangers and risks of such an endeavour. In some cases, they are even forced to do so by traffickers and smugglers.
(6/10) QUEBEC | Temporary migrant workers in hospitality are badly hit by the COVID-19 crisis
Report written by Danièle Bélanger (Chairholder), Charles Fleury (researcher associated with the Chair and associate researcher in the Industrial Relations department), and Capucine Coustere (PhD candidate).
Capucine's research focuses on the effect of macrosocial events on life courses in migration.
April 5, 2020
As part of a Chair's research project, we conducted in-depth interviews with 23 temporary residents working in hospitality in the Quebec region during the summer of 2019. Most of them had temporary work permits and some had student permits allowing them to work part-time. At the time, the sector was in full employment and constantly looking for labour. We were interested in four dimensions of their life course: migration, profession, family, and formation.
(7/10) SERBIA | State of emergency in the Balkans: Closure of migrants' camps in Serbia
Report written by Rosalie Lacombe, Master's student and member of the Chair
Rosalie's thesis focuses on European policies of externalization of migration controls, transit migration, and management and governance of migration in the Balkans.
March 28, 2020
After the exponential growth of COVID-19 cases in Western Europe at the end of February, the virus reached the Balkan countries. In the wake of the decisions taken by most European leaders to contain the spread of the virus, the Serbian president, Aleksandar Vucic, declared a state of emergency in Serbia on March 15th.
(8/10) JAPAN | Exclusion and solidarity for migrants in Japan: COVID-19 highlights the challenges posed by and faced by minorities
Report written by Naoko Sunai, PhD candidate and member of the Chair
Naoko's research analyses Vietnamese international migration from a sociological perspective centred on gender.
April 2, 2020
The COVID-19 pandemic and the mobility restrictions imposed by states are gravely impacting migrants in Japan with regards to employment, childcare, and racism.
(9/10) BEYROUTH, LEBANON | Physical distancing in the Shatila camp: When fearing the virus is becoming a privilege
Report written by Myriam Ouellet, PhD candidate.
As part of Myriam's Master's thesis on the trajectories of migration of Syrian refugees resettled in the city of Quebec, she did fieldwork in Lebanon in December 2017 and in April to May 2018, mainly in the city of Beirut.
April 11, 2020
The coronavirus pandemic is gaining ground in Lebanon. Its threat expands also across the Shatila Palestinian refugee camp, located in the municipality of Ghobeyri in the southern suburb of Beirut. After a six-month stay in Lebanon, as part of a research project of the experience of Syrian refugees exiled in Lebanon, a simple question soon caught my heart and mind: "What about Shatila?".
(10/10) ITALY | COVID-19
Report written by Annaelle Piva, PhD candidate and member of the Chair
Annaelle's thesis focuses on irregular migrants in urban spaces, by comparing the situation in the cities of Rome and Paris.
April 13, 2020
All residents of Italy are living under a strict lockdown that started on March 9, 2020. Every part of the society is affected; hospitals are saturated; and, as of April 8th, there have already been over 17,000 deaths. It seems impossible for the most precarious migrants to observe some of the measures implemented during the lockdown, which is limiting the possibility of providing them with help.